From the Shelf
Connie Willis: Listening In
Connie Willis is a member of the Science Fiction Hall of Fame and a Grand Master of the Science Fiction and Fantasy Writers of America. She has won more Hugo and Nebula awards for both her short fiction and novels than any other author in the genre. Her latest book is Crosstalk (Del Rey, $28), a witty novel about communication and emotional connection in the not-too-distant future. She described its genesis for us: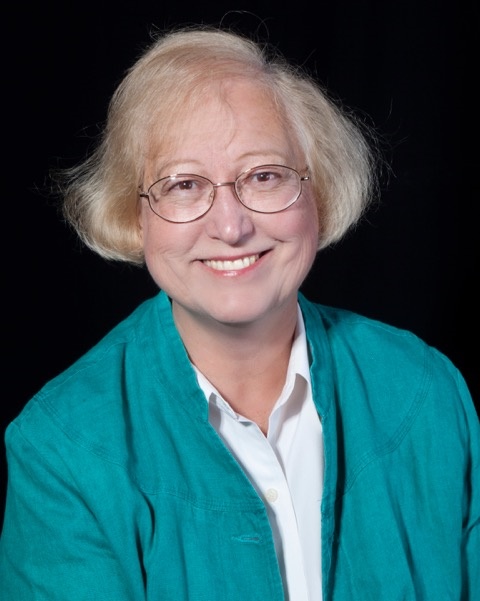 photo: G. Mark Lewis
My new novel is about telepathy, and it's amazing how many people think being able to hear other people's thoughts would be great.

No, it wouldn't. It'd be awful!

At best, it'd be like being back in middle school and accidentally overhearing the person you thought was your best friend saying nasty things about you. And at its worst... well, just think about all the creeps and porn addicts and serial killers out there. What if you were stuck listening to their thoughts? Any way you look at it, being telepathic would be pretty much of a nightmare.

And also pretty amusing, which is one reason I wanted to write Crosstalk. Lots of people have written stories and novels about telepathy, but nearly all of those have been pretty grim, focusing on all the negative consequences--madness, social ostracism, outright mental enslavement.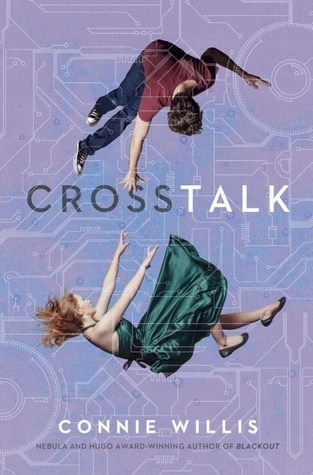 Hardly anyone's written about the funny side of suddenly finding yourself telepathic--or about the romantic complications which might ensue. Which brings me to the other reason I wanted to write Crosstalk. Telepathy abounds in fantasy and science fiction, but almost nobody has set a telepathy story in the here and now, in the middle of our already oversharing social media society. What would happen if you added an even more efficient form of communication? How would it change things?

Our social media were supposed to make communication (and relationships) easier and better, and instead we got nude selfies, online dates who lie, and the Kardashians.

I told you, lots of possible disasters and romantic complications!
I had fun playing with all of them in Crosstalk, and I hope you have fun reading it.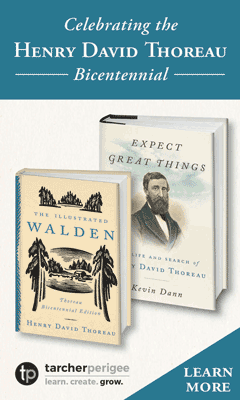 In this Issue...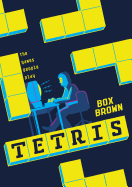 Tetris: The Games People Play is a graphic history of one of the most popular video games of all time.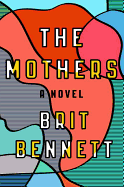 This wise and beautiful coming-of-age novel--one of the season's most anticipated--considers the tension between loss and redemption.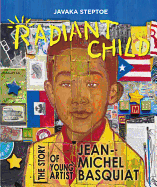 Young artists will find inspiration in Javaka Steptoe's beautiful, energetic picture-book biography of New York City artist Jean-Michel Basquiat.
Review by Subjects:
Fiction ⋅ Mystery & Thriller ⋅ Graphic Books ⋅ Biography & Memoir ⋅ Essays & Criticism ⋅ Children's & Young Adult

Book Candy
Shakespeare's 'New' Co-Author
Tempest to come?: "Christopher Marlowe Officially Credited as Co-Author of 3 Shakespeare Plays," NPR reported.

---

Halloween countdown: Teen Vogue modeled "8 DIY Halloween costumes based on book characters"; Electric Lit tuned up "13 literary songs for the Halloween season"; Mental Floss conjured "8 magical Harry Potter Halloween festivals for wizards and muggles"; and Bustle was haunted by "the 13 creepiest ghosts from literature."

---

"Life imitates art far more than art imitates Life." Signature featured "9 Oscar Wilde quotes for artists and icons."

---

The New York Public Library "is now storing its collection based on a book's physical dimensions instead of shelving them based on where they fall in the Dewey Decimal System," Quartz reported.

---

Curbed showcased a home outside of Paris that "makes ingenious use of bookshelves."

No Witness but the Moon
by Suzanne Chazin
Suzanne Chazin's third Jimmy Vega mystery starts with an explosive opening chapter; the red-hot intensity continues to the very end. Chazin's Hispanic police detective is investigating a fatal robbery likely connected to a string of increasingly violent home invasions when the dispatcher reports a similar crime in progress, with shots fired. Believing the same gang could be striking again, Vega takes the call, is first on the scene and finds himself at the residence of a famous Hispanic musician, Ricardo Luis. Luis is armed and chasing another Hispanic male down the driveway. As Vega directs Luis to drop his weapon, the unidentified man escapes into the wooded region behind the house. Vega gives chase, catching up to the suspect, who is facing away from him and refusing to show his hands. Vega repeatedly directs the suspect to put his hands where Vega can see them; instead the man reaches inside the pocket of his winter coat and abruptly turns around.
"One. Two. Two seconds. That's all the time a police officer has to make a decision.

"One. Two. A lot can happen in two seconds.

"An object can fall sixty-four feet.

"A bullet can travel a mile.

"And an indecisive cop can become a dead one.

"Vega wasn't aware of squeezing the trigger. But he heard the shots. Like burst balloons."
As the man's body falls in response to one of the first shots, a subsequent bullet shatters his skull.
Still convinced the man had a gun, Vega is searching for the weapon when backup arrives and removes him from the scene. No witnesses, no gun, one dead man and two insanely stress-filled seconds that demanded Vega make the most critical decision of his life. Now he will never be the same.
With such a high-octane beginning, readers might be inclined to think Chazin can't maintain the momentum, but they'd be incorrect. Her examination of a police officer shooting is compassionate, well-researched and carefully presented from the perspective of one who may be the less sympathetic party, making it gripping and insightful. As the psychological repercussions begin to clamor in Vega's head, outspoken activist Ruben Tate-Rivera beats his drum of justice, claiming Vega executed an unarmed man and inciting people to demonstrate. Tate-Rivera also pressures Vega's girlfriend, Adele Figueroa, former attorney and founder of the immigrant outreach center La Casa. Tate-Rivera insinuates that as a leader in the Hispanic community, if she does not immediately demand a grand jury investigation--before all the facts are available to her--she will be forced from her position at La Casa. Both Vega and Adele find themselves trapped.
"Adele would look like a hypocrite if she sided with Vega. She'd look like a heartless careerist if she didn't. So she held her tongue--which was unfortunately attached to her heart--while they both stumbled about in their separate prisons of guilt and grief. His over what he'd done. Hers over what she could not do."
With sensitivity and authenticity, Chazin digs deep into the humanity of tragedy, never forgetting that real flesh-and-blood people are involved and the answers are rarely black and white. Vega's shooting is also not the only focus of this emotionally charged installment to Chazin's series.
As with the two previous novels, Land of Careful Shadows and A Blossom of Bright Light, Chazin integrates the struggles faced by immigrants to the U.S. In No Witness but the Moon, that struggle is tied to the family of Vega's victim, Hector Ponce. Marcela Salinez, Ponce's daughter and Adele's babysitter, is struggling to hold her family together since her own daughter, Yovanna, arrived from Honduras. Plagued by the horrors of her traumatic trip, the language barrier and the feeling of being an outsider in her mother's new family, Yovanna is acting out and Marcela does not know how to help her. Pulling Marcela from the other direction, her husband complains about the new family member's behavior, as well as the financial and emotional stress her presence is creating in their household. But these problems seem insignificant when Marcela receives an extortion threat demanding $8,000 still due for her daughter's delivery to the United States, a transaction conducted by her dead father. All the forces acting on Vega and his loved ones, and Marcela and hers, ultimately return to one question: What was Ponce doing at Luis's home on that fateful night?
The complexity and skillfully meticulous weaving of plot lines make No Witness but the Moon thrilling and thought provoking. Despite the many layers, Chazin's story unceasingly charges forward, never lagging or becoming mired in unnecessary detail. Her passion and openness, obvious in every page, make the novel a hauntingly powerful bullet straight to the soul. --Jen Forbus
Kensington, $25, hardcover, 352p., 9781496705174
---
Suzanne Chazin: Looking Out the Window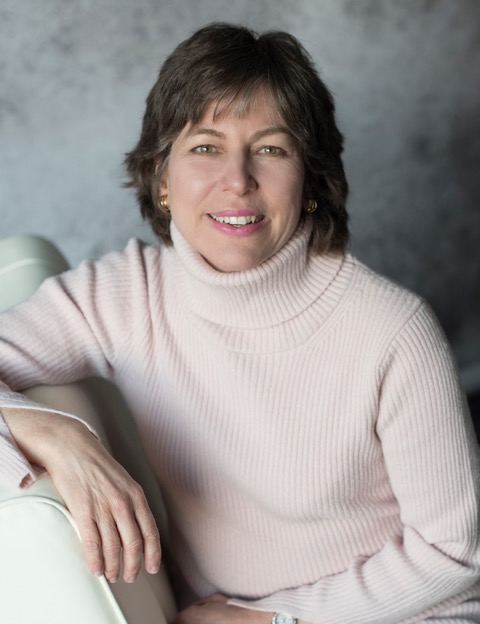 photo: Phyllis Garito
Suzanne Chazin is the author of three books in the Jimmy Vega mystery series, including No Witness but the Moon, just out from Kensington Books, and three previous novels that make up her Georgia Skeehan series, as well as dozens of short stories, personal essays and magazine articles. She has twice been the recipient of the Washington Irving Book Award for fiction. Her short fiction appeared in the anthology Bronx Noir, which won the 2008 Book of the Year Award for special fiction from the New Atlantic Independent Booksellers Association. A graduate of Northwestern University, Chazin spent more than a decade as senior editor at Reader's Digest, and has taught fiction and nonfiction writing at New York University, the New School for Social Research and Sarah Lawrence College. She was a 2012 writing fellow at the State University of New York at Purchase and is a frequent guest lecturer on writing at the Smithsonian Institute in Washington, D.C. Chazin has worked with several immigrant organizations in Westchester County, N.Y. She lives in Chappaqua, NY.
Suzanne Chazin always aspired to be a novelist. "I tried to write my first novel when I was 17, and I got 40 pages into it and said, 'I can't do this.' " Her first minor setback, combined with the belief that it's rare to support oneself as a novelist right away, caused her to study journalism in college. After that, Chazin worked as a freelance writer: "For more than a decade I was a writer for Reader's Digest. I really enjoyed my journalism career and my work has a journalistic feel because I try to be really accurate." But that grand dream to be a novelist stayed with her.
In her late 20s, Chazin again tried her hand at a novel. This time she succeeded in surpassing her previous record of 40 pages. She made it about half way before throwing in the towel. Still, she wasn't deterred. "I kept coming up with these different ideas. I was still working at Reader's Digest and my editor said to me, 'You're always trying to write about people you don't know anything about. Why don't you write something you know?' " As with many individuals, Chazin felt her life was mundane, and she didn't know anything or anyone exciting enough to write about. When her editor pointed out she was married to a New York firefighter, Chazin still didn't think this was a workable idea. "He's a man and I'm a woman." Simple enough, write about a female firefighter. "But there are so few... oh!" And the idea for Georgia Skeehan, a New York fire marshal, was born.
"I started the series before 9/11 and people said, 'Wow, this is novel and interesting to have firefighters and put them at risk this way.' " That sentiment didn't remain after the national tragedy, though. Instead, readers viewed the books as exploitative, and Chazin grew increasingly uncomfortable writing them. However, she was three books in and still had a fourth under contract for the series. While the country was reeling from the shock of terrorism, Chazin was dealing with her own personal life changes: her mother was dying and her daughter was born. She completed that fourth book, but it never even found an agent.
Chazin continued writing short works, ghost writing and freelancing, but she lacked the inspiration that would spark a new novel. "I decided that I was going about things wrong so I sat down and I asked myself, 'Suzanne, don't even think about writing, what is it you care about in this world?' " The answer came from her walks by the Mount Kisco train station. "I would see day laborers lining up in the bitter cold in just hoodies. I did not and still do not speak Spanish, but I wanted to talk to them, wanted to find out about their lives." Chazin wasn't thinking in terms of an idea for a novel, though. Instead, her journalism background drove this newfound passion. "I decided I would work at the [local immigrant center] as a volunteer, and then I would approach the director and say, 'I'm a journalist, if you could pair me up with a translator, I will tell these people's stories in their own voices.' " At the onset Chazin's idea was well received.
"For the next couple of years I sat down with the people and through translators I heard the real stories, these incredible stories of triumph and tragedy, unbelievable, amazing stories." But they weren't what the center director was anticipating. "When I started the project I think they thought I was going to write a bunch of stories like 'I am an American...,' 'America is a great country... I'm having a wonderful experience....' 'It's great to be in America.' " But the stories Chazin compiled were the real, grueling experiences. "[The director] looked at [the compilation] and she said, 'There's no way I can put these stories out there. These are very true but these are stories people in the larger community don't necessarily want to hear.' So she pulled the plug on the project. I thought that was the end and I was pretty crushed." But stepping back, Chazin had a realization. "You know what? I'm a mystery writer, and I am a fiction writer. How about if I try to tell these stories in fiction?" Traveling a very different route than she did with her Georgia Skeehan novels, Chazin arrived at the Jimmy Vega series.
In No Witness but the Moon, book three of the series, Chazin follows her style of blending an important issue in the immigrant community with conflict in the life of her police officer protagonist. She wanted to address the influx of unaccompanied children crossing the border that resulted because their parents currently in the United States feared their options being cut off permanently. But Chazin felt she needed to deliver the idea with a twist, because this series is about suburban America. "I had to be very careful to not have a story about a girl traveling from Honduras. That would take the story away from where it belongs. I had to find a way to bring in the trauma of what this girl had experienced and her readjustment but also not really deal with the journey."
The other major element of No Witness but the Moon is a killing by a police officer. When Chazin began considering this plot line, she wasn't sure she could go through with it. "The first time I thought about the idea, I got really scared. I was like 'No, I love Jimmy. Jimmy would never shoot someone like that.' But, the more you say the world never as a writer, the more intriguing it is. You think, 'okay, I just put him in the worst possible situation I can put him in, let's explore that.' " And explore it she does. "I read a book written by a police officer who had been through two shootings that were ruled justified. I'd also looked at the stages of grief and PTSD and what happens to people in those situations. I know Jimmy's a really good man, and I know that the death of this man will play on him. So I decided to take him through the stages of grief. He goes through each of the stages and in each stage he's saying, 'I'm really fine.' Until finally he realizes he's not fine. And I think when he goes to see Dr. Cantor, it becomes apparent to him how deeply messed up he is. Ultimately I wanted to take a good cop and say, 'look what it feels like to be a good cop in this situation. Look what it's doing to this man.' That's what I want people to see. As I want the readers to read the books and feel differently about immigrants, I guess I would like them to see the police officer's perspective, too."
A good deal of life's experiences--ups and downs--shaped the writer Suzanne Chazin is today. Looking back, she sees the evolution, "I think every writer starts out wanting to write the great American novel. I think every writer loves words--I know I do--and wants to cram in as many amazing words and images as they can. It's like that little kid wanting to take that blank page and draw all over it. As I went along, I discovered as much as I love words, what I'm trying to do is communicate. It doesn't matter how beautiful your phrase is--that's nice and all--but ultimately the reader has to feel that you've told them something, you entertained them, you inspired them. It's what the reader feels, not what the writer gives. So I changed from being a writer looking at the mirror to a writer looking out the window. I'm really trying to look at the world and give somebody else something worth reading. Or something someone will want to pick up one day even when I'm not around anymore." --Jen Forbus
---
Shelf vetted, publisher supported.

Book Reviews
Fiction

Riverhead, $26, hardcover, 288p., 9780399184512
Liveright, $24.95, hardcover, 208p., 9781631492334
Mystery & Thriller
Minotaur Books, $24.99, hardcover, 320p., 9781250060457
Graphic Books

First Second, $19.99, paperback, 256p., 9781626723153
Black Balloon/Catapult, $18.95, paperback, 288p., 9781936787289
Koyama Press, $15, paperback, 220p., 9781927668344
Biography & Memoir
Other Press, $27.95, hardcover, 352p., 9781590518144
Flatiron Books, $27.99, hardcover, 288p., 9781250071842
Plume, $23, hardcover, 176p., 9780735212114
Essays & Criticism
Penguin Press, $26, hardcover, 192p., 9781594206702
Children's & Young Adult

Little, Brown, $17.99, hardcover, 40p., ages 6-10, 9780316213882
Tuttle, $14.99, paperback, 128p., ages 10-16, 9784805313961